The Huntington Homestead in Scotland, Connecticut, is the birthplace of Samuel Huntington, a signer of the Declaration of Independence and a distinguished statesman during the Revolutionary War and early Republic. The remarkably well-preserved site includes an eighteenth century house on its original foundation surrounded by acres of farmland, bordered by Merrick Brook. It includes old-growth trees, stone walls, an abandoned road, and other interesting features. The Huntington Homestead is a surprising discovery so late in the twentieth century, when most historic sites have already been enshrined or ravaged. It is a National Historic Landmark.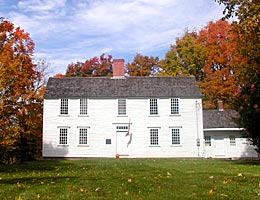 The Governor Samuel Huntington Trust, Inc. is the owner of the Huntington Homestead. The Kimball family, who had owned the property for 72 years, sold the historic farm to the Town of Scotland in 1994. The Town agreed to grant a two-year lease with an option to buy to interested local residents. Shortly thereafter, a grassroots effort to save the property for posterity was undertaken by dedicated volunteers who formed a nonprofit corporation named The Governor Samuel Huntington Trust. In July of 1996, the Trust purchased the property from the town and began its history as a museum organization.
Scotland, Connecticut is located in the heart of Quinebaug and Shetucket Rivers Valley National Heritage Corridor, an affiliate unit of the National Park Service. Connecticut Routes 14 and 97, both very scenic in character, transect Scotland. The Huntington Homestead is minutes from I-395 in Norwich, and lies within two hours of Boston and three hours of New York. Residents and tourists from New England and beyond will enjoy the surprise of discovery upon reaching the Huntington Homestead, a "best kept secret" in American history.

October 13, 1 p.m.—Colonial Homestead Landscape Tour.
Tour the old farm property from 1720 that at one point totaled 300 acres. Learn how the land was acquired by son of Mohegan chief, Uncas. The W3R (Route 14) will also be discussed. Rain cancels. Free, but donations accepted. Light period refreshments. Homestead tours available after.
October 20—An Early New England Funeral.
Pay your respects to a colonial Huntington family member who recently departed this life. Everyone in town would be expected to. Learn how past tradition was different from our modern world. Be part of an Olde New England custom in this living history time warp. $4 per person, members free.
October 27, 12 p.m.—George Washington Visits Huntingdale.
General George Washington (portrayed by renown reenactor Dean Malissa) visits with old friends Samuel Huntington and former Connecticut Governor Jonathan Trumbull to catch up on the current affairs each are dealing with "post-independence." Homestead open for tours at 11 a.m.
November 10—A Colonial Connecticut Thanksgiving, 1786.
Governor Samuel Huntington's 1786 Proclamation states that the day be observed with praise, prayer, and "the voice of melody." Come back to the Third Society of Windham where "no servile labour may be performed this day." Traditional food dishes will be discussed by "Samuel's mother" as "the family" savors their period feast including pompon pie. A common wedding ceremony is possible, a needy neighbor may come calling for Indian meal, and a weary traveler may need victuals. Harness your coursers! $4 per person, children 12 and under free, members free.
---
For a full list of upcoming programs, please see the Calendar of Events.
The Huntington Homestead is open to visitors May through October on the first and third Saturdays of each month from 11 a.m. to 3 p.m. Many of these dates have special programming.
The worthy goals of the Trust can only be met through broad membership in the organization. Our Membership Application describes the special benefits you will receive by joining the Trust.
You can purchase items from the Museum Store and have them mailed to you. All sales benefit the Trust.