The Huntington Homestead in Scotland, Connecticut, is the birthplace of Samuel Huntington, a signer of the Declaration of Independence and a distinguished statesman during the Revolutionary War and early Republic. The remarkably well-preserved site includes an eighteenth century house on its original foundation surrounded by acres of farmland, bordered by Merrick Brook. It includes old-growth trees, stone walls, an abandoned road, and other interesting features. The Huntington Homestead is a surprising discovery so late in the twentieth century, when most historic sites have already been enshrined or ravaged. It is a National Historic Landmark.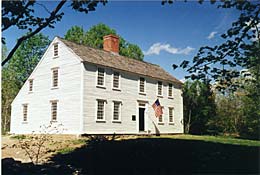 The Governor Samuel Huntington Trust, Inc. is the owner of the Huntington Homestead. The Kimball family, who had owned the property for 72 years, sold the historic farm to the Town of Scotland in 1994. The Town agreed to grant a two-year lease with an option to buy to interested local residents. Shortly thereafter, a grassroots effort to save the property for posterity was undertaken by dedicated volunteers who formed a nonprofit corporation named The Governor Samuel Huntington Trust. In July of 1996, the Trust purchased the property from the town and began its history as a museum organization.
Scotland, Connecticut is located in the heart of Quinebaug and Shetucket Rivers Valley National Heritage Corridor, an affiliate unit of the National Park Service. Connecticut Routes 14 and 97, both very scenic in character, transect Scotland. The Huntington Homestead is minutes from I-395 in Norwich, and lies within two hours of Boston and three hours of New York. Residents and tourists from New England and beyond will enjoy the surprise of discovery upon reaching the Huntington Homestead, a "best kept secret" in American history.

The Huntington Homestead begins an impressive line-up of events in 2017 with the following programs in September:
Saturday, September 2—18th Century Ironing Day
The sights and smells of a working 1760s lean-to kitchen include heavy, cast iron flat irons warming on trivets over hot coals. Ironing was a chore usually done on a Saturday when other chores requiring steady fires were also undertaken. Visiting children can try their hand at it. Tours available.
Saturday, September 16—Presidential Scarecrow Day
Create your favorite past President of the United States recognizable in the form of a scarecrow. We want to "remember the ladies" this year so are also looking for favorite past First Lady scarecrows! All entries in by 12. Voting is from 12–2 p.m.. Ballots will be cast in our olden day ballot box. Women and children can vote! 1st prize is a scrumptious early American pie made by "Mehetabel Huntington."
Sunday, September 17—A Special Children's Program, 1–2:30 p.m.
Let's sit around the trestle table and pop corn, enjoy cyder, and and read some short stories about childhoods of famous early Americans. Children can draw a picture of what they "see" in their heads from the short readings. Ages 6–10, preregister by Sept. 10 to Tina (860) 377-3252. $7 per child, members $5. Limit 8. (Kitchen fundraiser.)
---
For a full list of upcoming programs, please see the Calendar of Events.
The Huntington Homestead is open to visitors May through October on the first and third Saturdays of each month from 11 a.m. to 3 p.m. Many of these dates have special programming.
The worthy goals of the Trust can only be met through broad membership in the organization. Our Membership Application describes the special benefits you will receive by joining the Trust.
You can purchase items from the Museum Store and have them mailed to you. All sales benefit the Trust.