Current Activities
(Last updated January 15, 2000)
Major preservation work is underway under a $300,000 State grant administered by the Department of Economic and Community Development.
Foundations have been rebuilt and buttressed with concrete foundation walls as necessary. Masonry work on the ell foundation is continuing into January 2000.
The deteriorated top of the main chimney has been removed to the roofline and rebuilt with new brick. The chimney has been lined (parged) with a mortar mix
Foundation drains have been laid along north and south sides of house
Required archaeology work was completed in 1999 along north and south sides of the ca. 1723 house in which Samuel Huntington was born.
Two large maples on the west side of the house, and a large willow off the southeast corner, have been removed to safeguard the house.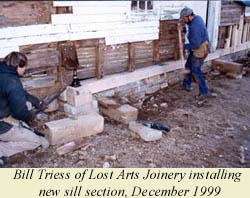 On November 5, 1999, an Advisory Board was convened to help guide our renovation and our museum development strategies. We were fortunate in having the following distinguished scholars and museum preservation professionals agree to serve:
Marilyn Ackerman, Period Preservation, Inc., Architect
Richard D. Brown, Professor, Department of History, UConn
Irene Quenzler Brown, Professor, School of Family Studies, UConn
Richard L. Bushman, Professor of History, Columbia University
Abbott Lowell Cummings, Professor Emeritus, Yale University
Charlene Perkins Cutler, Executive Director, Quinebaug-Shetucket Heritage Corridor, Inc.
Cornelia Hughes Dayton, Social Historian, Department of History, UConn
Rudy J. Favretti, Landscape Architect, Professor Emeritus, UConn
William A. Flynt, Architectural Conservator, Historic Deerfield
Keenth Hafertepe, Director of Academic Programs, Historic Deerfield
Thomas Paske, museum restoration carpenter, restoration consultant.
Caroline Fuller Sloat, Editor of Publications, American Antiquarian Society
Myron O. Stachiw, historian, archaeologist, architectural historian
John Worrell, Old Sturbridge Village emeritus, Director of Research,Archaeologist
The Huntington Homestead is owned and operated by the Governor Samuel Huntington Trust, Inc., PO Box 231, Scotland, CT 06264. A non-profit corporation formed in 1994, the Trust is authorized by the IRS to receive tax-exempt contributions. This site has been made possible by a grant from the Connecticut Society of the Cincinnati.