Large Undertakings and Miraculous Accomplishments…
…are frequently the result of shared interests. Following are brief backgrounds on some of the present and past key players within the Trust. We'd love to have you join us!

Kevin Ring, Sr., current President of the Trust, got his first taste of the Trust and its mission when he enrolled in the Architectural Field School on Building Archaeology co-sponsored by the Trust at the Huntington Homestead to fulfill his interest in early American building construction. Ever since he's been hooked! From his nearby home in Scotland, Kevin is always available to lend a hand to all Huntington Homestead functions. He has been a key docent during long hours spent at Open Houses, enthusiastically educating the public on all key aspects of the house's history and restoration.

John Spencer, a founding member and past President and Secretary of the Trust, has family roots in Scotland that trace to 1714, inspiring an abiding interest in the town and its people. John's Natural Resource Management career has provided him with the ability to plan and manage multi-faceted projects and has proved indispensable in dealing with the myriad aspects, both physical and administrative, of planning a museum of the scope we envision.

Georgia L. Stauffer, long-time Treasurer of GSHT, Inc., has been an integral part in the Trust ever since its inception in 1995. She is also a member of the Scotland Historical Society and of the Highland Festival Association. When not spending an incredible amount of time keeping the Trust organized and focused, with an occasional miracle thrown in, her interests include music, books, sewing and needlework.

Mimi Harmon Stevenson, is a Board member and recent President of the Trust. Originally from Ohio, she became interested in the Gov. Samuel Huntington Trust when her family was contacted by a member of the Huntington Family Association. After retirement and a move to Connecticut, she visited the Huntington Homestead and became involved in its ongoing restoration progress. She also pursues her interests in Connecticut history through the Connecticut Graveyard Network and the Friends of the Office of State Archaeology (FOSA).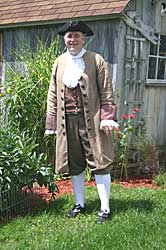 Tom Pelc

Tom Pelc is a recent Vice President and long-time member of the Trust. He grew up in Scotland and believes that Samuel Huntington has never received his proper place in history. He's hoping that with scholarly review and more research we may be able to bring more honor to this dedicated founding father. A man of varied interests, Tom is a Social Worker for the State of Connecticut and hosts a weekly radio show playing the great American standards on WHUS, Storrs.

Brian Sear, a resident of nearby Canterbury, has served two separate stints as Director, once in the "early days" prior to the Homestead's acquisition, and a second time more recently. His combined interest in early American history (his circa 1753 home once housed a cousin of Samuel Huntington) and communication arts sparked his interest in promoting the Trust's cause.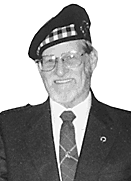 Channing M. Huntington II

The late Channing Huntington II, a founding member, first President and one-time Secretary, had a life-long interest in Samuel Huntington. Channing, born and raised in Norwich, Conn., a life member and long time officer of the Huntington Family Association, made a second career out of the mission of the Trust. To Channing, the chance to aid in the preservation of Samuel's birthplace, the opportunity to gain Samuel the recognition he deserves as a founding father, and work to establish the Huntington Homestead Museum, was a dream come true.

Tom Hemphill was hired to redesign the Trust's web site in the fall of 2000. He continues to maintain the web site as a volunteer member of the Trust. He grew up in neighboring Hampton in a 1741 house, and now lives in historic Wethersfield.

Gail White, a long-time member and past President of the Trust, has spent many years as volunteer director of the c. 1720 Daniel Benton Homestead in Tolland, Connecticut. Living in Woodstock, she works as the Education Coordinator for the Bowen House and Roseland Cottage. She spends her spare time researching 17th and 18th Century New England culture. Gail, an avid historical "re-enactor," organized the historical re-enactment held at the Huntington Homestead in October of 2000.

Jo Anne Loughery has served both as Recording Secretary and as a Director of the Trust. She and her husband, Herb moved to Scotland in 1998. They are both retired Naval officers.

Larry Northrop has served as a member of the Trust's Board of Directors. He is a returned Peace Corps volunteer (92-94 Russian far-east). Larry brings a life long interest in historic architecture and local history to work on the Museum Planning and Restoration Committee. Most of his professional career has been in graphic arts, currently "new media" projects that relate or mix with traditional media.
Return to the Membership page
---
Home | The Museum | The Huntington Trust | About Samuel Huntington | Contact Information | Other Resources | Site Map